Catholic Faith
Living Like Jesus: Servant, Steward, Shepherd
Our school divisions faith theme for the 2019-20 School Year is:
Living Like Jesus; We Are Shepherds
Click HERE for information regarding Greater St. Albert School Division's religious studies program.
Our Parish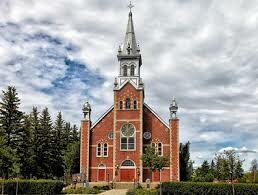 MCHS works closely with St. Jean Baptiste Parish in Morinville.  We are pleased to have Fr. Trini Pinca service the Morinville schools and community.  
Please click HERE for more information regarding sacramental prep.
MCHS Partners w/ Catholic Social Services
Morinville Community High School is proud to announce our partnership with Catholic Social Services and specifically LaSalle House.
LaSalle is a second stage shelter for women and children fleeing violence.
LaSalle is a second stage women's shelter for mothers and their children who have left abuse and are transitioning from a front-line crisis agency. The program provides accommodation in nine furnished suites for up to a year. During that time clients receive support and counseling as they access educational, employment, and training opportunities.
While at LaSalle, women and their children are provided with group workshops, one-on-one counseling, childcare, aboriginal support, and outreach services. The program offers a safe place for women and their children to help break the cycle of violence. LaSalle exposes its residents to a wide support network which breaks the cycle of isolation and offers the potential to make new friendships.
LaSalle was initiated in 1988 by the Grey Nuns and was overseen by a volunteer Board of Directors before joining the Catholic Social Services "family" in 2009. Over the past two decades the program has helped more than 200 women and 350 children rebuild their lives.
For more information about the programs Catholic Social Service have to offer please click HERE
Works of Mercy/Faith in Action
Faith in Action
MCHS students have partnered with Aspen House Seniors complex.  Students visit, play cards, play bingo, read and interact with the seniors.
Morinville Food Bank Drive - The students and faculty are collect food for the Morinville Food banks throughout the year. 
The MCHS Relgion 15/25 class organized a bike-a-thon to benefit Peace and Development.
MCHS students support the Knights of Columbus Santa's House Toy Drive to benefit the community of Morinville.
If you can help in any way please bring donations by the school and we will make sure that the items get to the proper destinations.