MCHS Presents Mary Poppins
Finally, What You've All Been Waiting For.....
THE MCHS ONLINE CLOTHING STORE IS NOW OPEN!!!
MCHS Athletic Wear
MCHS Grad Wear
Backpacks
Jackets
Thank You to the Morinville Sobey's
Morinville Sobey's and Morinville Community High School have a great partnership.  The Morinville Sobey's is a proud supporter of the HOWLS program at MCHS.  Thank you to owners Shaun and Susie Thompson for their on-going support.
Student Training Program with the Morinville Fire Department
2015-16 Fire Department STP Program
MCHS is proud to once again partner with the Morinville Fire Department to run the Student Training Program (STP).  The STP program is an exciting educational partnership between the Morinville Fire Department and our school.  STP students attend regular fire practice sessions as well as many other exciting training courses related to fire fighting and emergency response.  This is the perfect program for students interested in careers in Fire Fighting, Policing, or Emergency Response.  Eleven interested MCHS students met with Fire Chief Brad Boddez and STP leaders Charles Lavallee, Brett Wilson and Jake Anderson for an information session at the school on Sept. 17th.  Successful applicants will begin training with the Morinville Fire Department in the Student Training Program in October.
Thank you to the Morinville No Frills
Thank you to Tracey and Chris Mansbridge and No Frills for their cheque of $3200 that will be equally shared by MCHS, Primeau, Notre Dame and Morinville Public Elementary School for the Hot Lunch Programs.
DID YOU KNOW?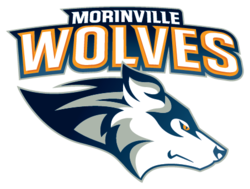 That MCHS is one of two high schools in Canada that is offering a university level English to eligible Grade 12 students, allowing our students to earn regular university credits while still in high school.
MCHS' positive behaviour supports program has a HOWLS lunch every month for students who have earned a HOWLS ticket.  The last HOWLS lunch saw 194 students receive lunch!  HOWLS tickets are given to students who have shown Honour - Ownership - Welcoming- Leadership- Safety at MCHS.
MCHS offers an Urban Agriculture course where students experience the farm to table lifestyle first-hand.  This course offers students a hands on approach to learning.  They participate in butchery, canning, pickling, growing and go on numerous field trips.

                                                                     MCHS is the place to be!

Welcome Back message from Arch Bishop Smith
Good morning everyone,
 
Please click here to see a welcome back link from Arch Bishop Smith.
MCHS Trip of a Lifetime - Japan
JAPAN TOUR SPRING BREAK 2016

MCHS is planning its first-ever trip to Japan during the spring break of 2016.
Experience the beauty of Japan in the cherry blossom season, marvel at the technological wonders of modern-day Japan and discover the ancient world of the samurai. 
To examine the itinerary of this 14-day trip please see the attached documents or contact Mrs. Kruhlak for more details.  Pamphlets
are available at the front desk in the general office. 
Participation on international field trips is limited to grades 10-12 students.  
Sign up now for an amazing adventure!
Quick Itinerary (click here)
Full Itinerary (click here)
Rachel Notley comes to MCHS!!!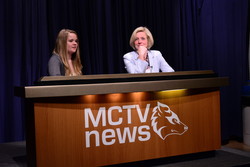 Premier Notley (pre-election) took questions from students at MCHS.  MCTV put on a special broadcast featuring Premier Notley who took time out of her busy schedule to sit down with news anchor Julie Otte.
Check Out PACK Day at MCHS - Our Version of Using Flex Time
MCHS hosts 4 PACK Days per semester to offer students a variety of learning opportunities.  Students had over 50 opportunities to learn something new:  Everything from Public Speaking, Jujitsu, World Cooking, Wood Carving, Salsa Making, Graduate Retreat, Time Travel Discussion, 60's - 70's Classic Rock Discussion to name only a hand full of sessions.  Students were also given the chance to get extra help in any subject.  Great Day!
MCTV News - Latest Episode
MCHS' source for news, weather and sports is now online!
Survey Link