NEW Student Registration 2015-2016

For New Student Registration Information please refer to the About Tab or you can call Greater St. Albert Catholic Schools at 780-459-7711.  August 26th, 2015 we will be booking appointments for New Students to register in person with the opportunity to meet with one of our Grade Coordinators to review and make the appropriate course selections.  The school office will be open on August 20th please call 780-939-6891 at that time to schedule your appointment.
Bring Your Own Robust Device to MCHS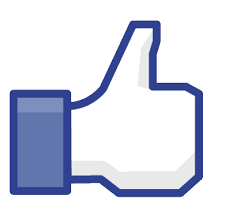 Bring Your Own Robust Device (BYORD) - GSACRD
For the upcoming school year, Greater St. Albert Catholic Schools wishes to support students in providing an opportunity to purchase laptops in support of learning in the digital age.  The purchase plan would allow families to participate in a bulk order, accessing best pricing and a payment plan to spread the cost over 8 to 10 monthly installments. To purchase either a MacBook Air ($1102.71) or an Acer Chromebook ($334.22) for your child sign into your School Cash Online account.  You can also register for an account on the site.
As a school community, we strive to integrate technology into our student's everyday studies. With the technology advancing at such a rapid pace, we see firsthand how it can positively impact the learning for all. The use of technology has provided teachers the opportunity to personalize and accommodate all learning styles, as well as providing students with differentiated learning opportunities, flexible pathways to success, collaboration opportunities and any time, any paced learning.
Should you wish to purchase a Robust Device for your child this September 2015, we have provided an information sheet on various Robust Devices below. While no device is perfect, following the guidelines provided will aide you in making a decision best suited to your child's need, and make the most of students use of Google Apps for Education, as well as personalize their learning.
All orders must be received by August 14, 2015 to ensure delivery for the start of the school year.
Orders received between August 14, 2015 and September 4, 2015 should expect delivery in late September.
Inquiries on the Technology Plan can be sent to dquick@gsacrd.ab.ca, Assistant Superintendent, Greater St. Albert Catholic Schools.
CLICK HERE for the District technology letter
CLICK HERE for BYORD Options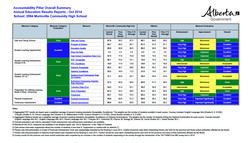 Excellent Report Card for MCHS! (click on image)


Twice a year Alberta Education releases a 'report card' on each school in the province, using results from student, parent and teacher surveys, along with hard data from students on Provincial Achievement Tests, Diploma Exams and other measures related to Grade 12 students.  This is the Accountability Pillar for each school and each school district in the province.

The results are the strongest that they have been for MCHS in the 10 years that Alberta Education has been reporting on schools in this manner.  The stellar report for MCHS is due to the work that students, parents and faculty have been part of for the past year and beyond.  Our students and communities are the beneficiaries of this and this report again highlights the fact that MCHS is one of the top high schools in Alberta.  

Access to the full report (196 pages) is available on our school website and on the Alberta Education website.

Thank you for your continued support of your children and the students of MCHS.
DID YOU KNOW?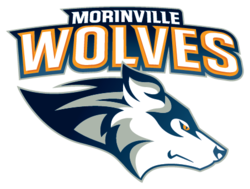 That MCHS is the only high school in Canada that is offering a university level English to eligible Grade 12 students, allowing our students to earn regular university credits while still in high school.
MCHS' positive behaviour supports program has a HOWLS lunch every month for students who have earned a HOWLS ticket.  The last HOWLS lunch saw 194 students receive lunch!  HOWLS tickets are given to students who have shown Honour - Ownership - Welcoming- Leadership- Safety at MCHS.
MCHS offers an Urban Agriculture course where students experience the farm to table lifestyle first-hand.  This course offers students a hands on approach to learning.  They participate in butchery, canning, pickling, growing and go on numerous field trips.

                                                                     MCHS is the place to be!

MCHS Trip of a Lifetime - Japan
JAPAN TOUR SPRING BREAK 2016

MCHS is planning its first-ever trip to Japan during the spring break of 2016.
Experience the beauty of Japan in the cherry blossom season, marvel at the technological wonders of modern-day Japan and discover the ancient world of the samurai. 
To examine the itinerary of this 14-day trip please see the attached documents or contact Mrs. Kruhlak for more details.  Pamphlets
are available at the front desk in the general office. 
Participation on international field trips is limited to grades 10-12 students.  
Sign up now for an amazing adventure!
Quick Itinerary (click here)
Full Itinerary (click here)
Congratulations MCHS Graduates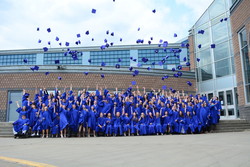 Morinville Community High School would like to congratulate the Grad Class of 2015! 
Champion Awards Night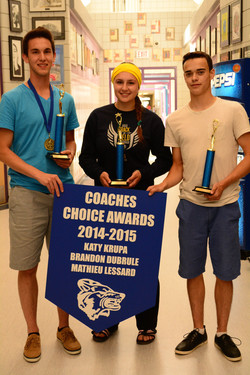 Celebrating and honoring achievement in Athletics.  Thank you to our sponsor Champion Pet Foods for their donation to help make the Champion Awards Night a huge success for our student athletes.
Rachel Notley comes to MCHS!!!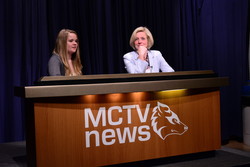 Premier Notley (pre-election) took questions from students at MCHS.  MCTV put on a special broadcast featuring Premier Notley who took time out of her busy schedule to sit down with news anchor Julie Otte.
MCTV 20th Anniversary Episode ft. MCTV Alumni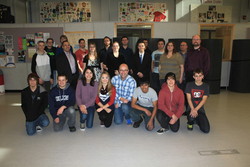 Take a moment to go back into MCHS history and see how MCTV has evolved over the past 20 Years!  Mr. Boutestein and the MCTV crew have been doing their TV show at Morinville Community High School since the doors opened in 1994.
Click HERE for the the 20th Anniversary Episode (may not play on mobile devices)
Scheduled to appear on the broadcast are:
    Allen Gould (founding producer from season 1)
    Mark Woollven (seasons 1, 2 & 3 - currently working for iNews880 in Edmonton)
    Michel de Ocampo (season 2 host)
    Jocelyn Boissonneault (seasons 3 & 4 - currently working for CBC French in Calgary)
    Tiffany Akins (season 1 - currently working as a public relations specialist in Vancouver)
    Estelle Clements (seasons 3 & 4 - currently working on her PhD in Media)
    Justin Pautonnier (seasons 9, 10 & 11 - currently working as a DJ at Big Country 93.1 in Grande Prairie)
    Steve Dyer (seasons 14, 15 & 16 - currently working as an editor at CTV in Edmonton)
    Tim Evans (seasons 16, 17, 18 & 19 - completing final semester of Radio & Television Arts at NAIT).
Check Out PACK Day at MCHS - Our Version of Using Flex Time
MCHS hosts 4 PACK Days per semester to offer students a variety of learning opportunities.  Students had over 50 opportunities to learn something new:  Everything from Public Speaking, Jujitsu, World Cooking, Wood Carving, Salsa Making, Graduate Retreat, Time Travel Discussion, 60's - 70's Classic Rock Discussion to name only a hand full of sessions.  Students were also given the chance to get extra help in any subject.  Great Day!
MCTV News - Latest Episode
MCHS' source for news, weather and sports is now online!