New Student Absence Reporting System - SafeArrival
Morinville Community High School has been lucky enough to have been chosen to pilot a new student absence reporting system called Safe Arrival.  To enhance our existing absence check procedure, we are introducing a new, more efficient student absence reporting system called SchoolConnects SafeArrival.  This new system will reduce the time it takes to verify student attendance, make it easy for you to report your child's absence and easy for staff to respond to unexplained student absences. 
WE WILL BE STARTING THE SAFE ARRIVAL SYSTEM ON OCT. 3RD
Click HERE for more information regarding Safe Arrival.
SafeArrival is an absence reporting system that:
makes it easy for you to report your child's absence
increases student safety by allowing staff to respond to unexplained absences more efficiently.
You are asked to report your child's absence using one of the following convenient methods:
| | | |
| --- | --- | --- |
| Phone | 1-844-818-9908 | Call the toll-free, interactive telephone system. |
| Website | gsac.schoolconnects.com | Set up your Parent Portal account then log in. |
| Mobile App | SafeArrival app | Set up your Parent Portal account, download the Apple or Android app, then log in. |
All methods are available 24 hours a day, 7 days a week. Absences may be reported ahead of time or on the day of the absence before the morning bell.
We will be using the SchoolConnects automated notification system to contact parents/guardians if a child is absent and the absence was not reported in advance. SchoolConnects attempts to contact parents/guardians at multiple contact numbers until the designated contact(s) is/are reached. If the system is unable to reach a designated contact within 20 minutes, office staff will follow up. If you report your child absent using the toll-free number, Parent Portal website or SafeArrival app, you will not receive these calls.
September 22th - CAP Faculty Availability Schedule
Click HERE for faculty help sessions.
Ilearn/Reflection room is only available for students enrolled in courses in ILearn/Reflection Room - MAXIMUM seats 25 on each side.
Attendance will be taken.
Use this time to get extra help from your teachers or to do homework.
This is a mandatory instructional time.  All students must be in a classroom.  The library is closed as are common areas.
GSACRD Transportation
Questions about transportation?  Click HERE for info.
Transportation on the GSACRD website - Click HERE
MCHS Video Premier - MUST WATCH!!!!
See the faculty and students of MCHS perform a classic...
DID YOU KNOW?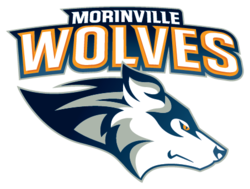 That MCHS is one of two high schools in Canada that is offering a university level English to eligible Grade 12 students, allowing our students to earn regular university credits while still in high school.
MCHS' positive behaviour supports program has a HOWLS lunch every month for students who have earned a HOWLS ticket.  The last HOWLS lunch saw 143 students receive lunch!  HOWLS tickets are given to students who have shown Honour - Ownership - Welcoming- Leadership- Safety at MCHS.
MCHS offers an Urban Agriculture course where students experience the farm to table lifestyle first-hand.  This course offers students a hands on approach to learning.  They participate in butchery, canning, pickling, growing and go on numerous field trips.

                                                                     MCHS is the place to be!

Congratulations Graduates of 2016
Students volunteer to donate stem cells for the Canadian Blood Services
Canadian Blood Services' OneMatch Stem Cell and Marrow Network is honored to partner with Morinville Community High School to recruit our young leaders to help save lives by registering as potential stem cell donors. 
TSN Broadcaster Ryan Rishaug is interviewed by Ben Lawrence at today's PACK Day
Morinville Community High School welcomed Ryan Rishaug from TSN.  Our very own reporter, Ben Lawrence interviewed Mr. Rishaug on MCTV.
Student Training Program with the Morinville Fire Department
2015-16 Fire Department STP Program
MCHS is proud to once again partner with the Morinville Fire Department to run the Student Training Program (STP).  The STP program is an exciting educational partnership between the Morinville Fire Department and our school.  STP students attend regular fire practice sessions as well as many other exciting training courses related to fire fighting and emergency response.  This is the perfect program for students interested in careers in Fire Fighting, Policing, or Emergency Response.  Eleven interested MCHS students met with Fire Chief Brad Boddez and STP leaders Charles Lavallee, Brett Wilson and Jake Anderson for an information session at the school on Sept. 17th.  Successful applicants will begin training with the Morinville Fire Department in the Student Training Program in October.
Rachel Notley comes to MCHS!!!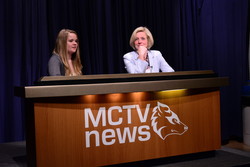 Premier Notley (pre-election) took questions from students at MCHS.  MCTV put on a special broadcast featuring Premier Notley who took time out of her busy schedule to sit down with news anchor Julie Otte.
MCTV News - Latest Episode
MCHS' source for news, weather and sports is now online!
Division News