Sr. High Track and Field Results
A big congratulations goes out to our MCHS Track Team for their terrific performance at the
Zone Meet/Provincial Qualification Meet Thursday at Foote Field in Edmonton. Our Wolves
came in second over-all, which is impressive considering that there were 30+ high schools
competing at this meet.

A total of 14 of the 20 MCHS athletes qualified for the Provincial Championship Meet next week at Foote Field in Edmonton. MCHS athletes won a total of: 11 Gold Medals, 7 Silver Medals and 1 Bronze Medal. The student athletes who won Gold and Silver advance to the Provincial Championships on June 3rd and 4th.


Gold Medal winners are:
Jr. Girls - Mikhayla L. - Discus
Jr. Girls - Haley O. – Shot Put
Jr. Girls - Amy V. - High Jump
Intermediate Girls - Bailey C. - High Jump
Intermediate Girls - Jordan Z. - 800M
Sr. Girls - Shayla K. - Long Jump
Sr. Girls - Larissa V. - 80 M Hurdles & Triple Jump
Jr. Boys - Eric C. - Long Jump
Intermediate Boys - Caleb C. - 1500M
Intermediate Boys - Aiden C. - Discus

Silver Medal winners are:
Sr. Girls - Larissa V. - Javelin & Long Jump
Jr. Boys - Graham G. - 1500M & 3000M
Jr. Boys - Cole L. - Triple Jump
Jr. Boys - Steven V. - 800M
Sr. Boys - Kaymen B. - Hurdles

Bronze Medal winner:
Jr. Girls - Haley O. - Discus

We would also like to acknowledge the efforts of Grade 12 student Larissa V. as she earned the
highest points of all 270 athletes at the Zone meet, scoring 30 of a possible 32 points to bring
home two Gold Medals in the Hurdles and Triple Jump and two Silver Medals in Long Jump and
Javelin. This was a very impressive performance.

Thank you to all the student-athletes who competed at Zones...both those who are on the list
above and those who are not, as they were excellent ambassadors for MCHS and did the school
proud. Thank you as well to Mr. Maslyk for the time that he has spent coaching all of these
athletes this season.
Jr. High Track Results
Congratulations to all the Grade 9 Track Athletes who attended the SAPEC Meet at Fowler Track last Wednesday.
Some notable results include:
Chris O. - 2nd 100m (11.4 sec)
Nickolus W. - 2nd 3000m (11:26 min)
Jaydon G. - 1st Turbo Javelin (32.16m)
Andrew S. - 2nd Discus (30.9m)
Carter H. - 2nd High Jump (1.65m), 1st Long Jump (6.13m), 1st Triple Jump (12.01m)
Amber S. - 2nd Shot Put (8.93)
The students noted above will be part of the Zone Meet at Fowler track coming up next week.
June 2016 Final Exam Schedule
Aid for Fort McMurray
Many families here have a direct connection to Fort McMurray and we all have a role to play in helping all who have been impacted by the destruction.  MCHS and GSACRD are looking to help in any way possible.  We are also working with the Town of Morinville on this project.
1.  We will be collecting donations for the Edmonton Emergency Relief Services, who are coordinating many of the efforts in the region.  We are accepting items for distribution:  diapers, baby wipes, new toiletries and new socks and underwear.  All items donated at MCHS will then be transported to the main processing location in Edmonton for distribution to the evacuees.  
2.  The Red Cross is accepting cash donations, to be used to directly help in the relief work.  Any cash donations given to MCHS for this will be provided to the Red Cross, or you may contact the Red Cross directly.
3.  We will be accepting placement of any students who have been evacuated from that region.  These students and their families are asked to contact us at the school to arrange to get these students into classes.  We do have school supplies and backpacks that will be provided to them.
If you know of anyone displaced by this tragedy, have them contact the school to get them into class.  All donations will be accepted.



Get Your Wolves Wear!
If you are in need of some MCHS Wolves wear click HERE.  Please check out our online store as there is a variety of items for purchase.  Show your WOLF PACK pride by wearing our spirit wear.
Grade 10-12 Summer School Registration Now Open!
All core courses and some complimentary courses including Phys. Ed and Religion will be offered. Camp HeLa, a popular choice for many students entering high school will also be offered. Dates and a complete course listing now available. 
Visit our High School Summer Classes website to find out more about in-class, online and Camp HeLa options.
DID YOU KNOW?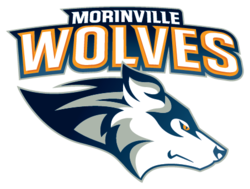 That MCHS is one of two high schools in Canada that is offering a university level English to eligible Grade 12 students, allowing our students to earn regular university credits while still in high school.
MCHS' positive behaviour supports program has a HOWLS lunch every month for students who have earned a HOWLS ticket.  The last HOWLS lunch saw 143 students receive lunch!  HOWLS tickets are given to students who have shown Honour - Ownership - Welcoming- Leadership- Safety at MCHS.
MCHS offers an Urban Agriculture course where students experience the farm to table lifestyle first-hand.  This course offers students a hands on approach to learning.  They participate in butchery, canning, pickling, growing and go on numerous field trips.

                                                                     MCHS is the place to be!

Students volunteer to donate stem cells for the Canadian Blood Services
Canadian Blood Services' OneMatch Stem Cell and Marrow Network is honored to partner with Morinville Community High School to recruit our young leaders to help save lives by registering as potential stem cell donors. 
TSN Broadcaster Ryan Rishaug is interviewed by Ben Lawrence at today's PACK Day
Morinville Community High School welcomed Ryan Rishaug from TSN.  Our very own reporter, Ben Lawrence interviewed Mr. Rishaug on MCTV.
Student Training Program with the Morinville Fire Department
2015-16 Fire Department STP Program
MCHS is proud to once again partner with the Morinville Fire Department to run the Student Training Program (STP).  The STP program is an exciting educational partnership between the Morinville Fire Department and our school.  STP students attend regular fire practice sessions as well as many other exciting training courses related to fire fighting and emergency response.  This is the perfect program for students interested in careers in Fire Fighting, Policing, or Emergency Response.  Eleven interested MCHS students met with Fire Chief Brad Boddez and STP leaders Charles Lavallee, Brett Wilson and Jake Anderson for an information session at the school on Sept. 17th.  Successful applicants will begin training with the Morinville Fire Department in the Student Training Program in October.
Arch Bishop Smith's Christmas Message

 
Please click Christmas Message to see the message link from Arch Bishop Smith.
Rachel Notley comes to MCHS!!!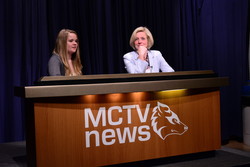 Premier Notley (pre-election) took questions from students at MCHS.  MCTV put on a special broadcast featuring Premier Notley who took time out of her busy schedule to sit down with news anchor Julie Otte.
Check Out PACK Day at MCHS - Our Version of Using Flex Time
MCHS hosts 4 PACK Days per semester to offer students a variety of learning opportunities.  Students had over 50 opportunities to learn something new:  Everything from Public Speaking, Jujitsu, World Cooking, Wood Carving, Salsa Making, Graduate Retreat, Time Travel Discussion, 60's - 70's Classic Rock Discussion to name only a hand full of sessions.  Students were also given the chance to get extra help in any subject.  Great Day!
MCTV News - Latest Episode
MCHS' source for news, weather and sports is now online!
Division News